What is the "Clean Clic System®" ?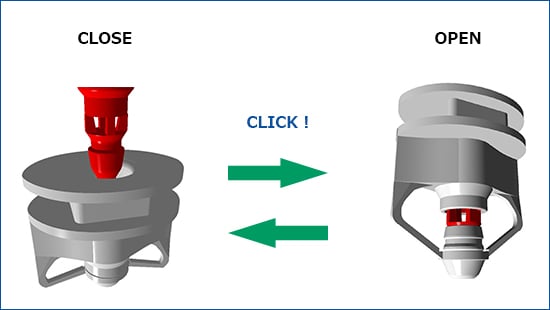 A unique connector system for flexible packages that enables both excellent content protection performance and environmental adaptability.
In this vacuum packaging system for liquids, the valve is opened/closed by connecting/disconnecting the unique Clean Clic® Connector.. This enables airless filling and airless dispensing of the contents.
Features of the "Clean Clic System®"
1. Preventing deterioration of contents and maintaining freshness
Air is removed just before filling and this condition is maintained throughout the filling process. This airless filling can minimise deterioration of the contents for optimal freshness.
The contents do not come into contact with the air during filling, and intrusion of external foreign matter and bacteria is suppressed, maintaining a clean state.
Before

Filling

Completed
2. Flexible Package that contributes to environmental protection
Using this airless filling system the pouch is entirely filled with the contents, leaving no open/unfilled space. The size of the product after filling is more compact than common flexible bags, leading to a reduction in size of required packaging material.
By reducing the weight and size of the product, transportation efficiency is improved, and warehouse space requirements are reduced.
By combining with a discharge device such as a dispenser, even highly viscous contents can be dispensed down to the very last drop, greatly reducing the liquid residue in the pouch.
3. A "refill pouch" that can be combined with a dispenser or discharge device to make the task of refilling unnecessary
Simply connect the pouch's connector to a dispenser or discharge device to complete the refill while maintaining the vacuum inside the container.
Refilling can be performed as is, without opening the cap or seal of the pouch container, and there is no need to worry about spillage or the outside air or hands and fingers coming into contact with the contents. Refilling can be performed easily and cleanly, avoiding the hassle of operation and the risk of contamination with foreign bodies such as bacteria.
4. Streamlining of filling operations for liquid products
As the pouch container can be filled while remaining sealed, it can even be filled with liquids that easily foam, such as surfactants, without foaming, and there is no spillage.
There is no need to fit a heat seal or cap after filling, and there is no need to worry about heat-seal defects filling due to liquid ingress, leading to an improvement in filling operation efficiency.
* A dedicated filling machine is required for filling with the Clean Clic System
®
. Please consult us regarding filling methods, such as new installation of equipment, rental machinery, incorporation into existing equipment, etc.
Examples
Alcohol sanitizer
(Cartridge type)

Hair shampoo and Conditioner
(Cartridge type)

Toilet seat cleaner
(Cartridge type)

Industrial hand cleaner

Ink cartridge for
industrial ink jet printer