Something Different
Our unique and value-added packages can be applied for various markets including cosmetics, sanitation, food and other industrial liquids. The material constructions are carefully designed depending on the properties of contents.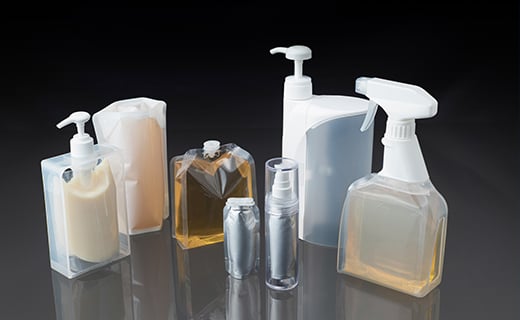 Clean Clic System® expands the possibilities of flexible packages with excellent content protection and environmental adaptability.
The filling/dispensing process of our unique Clean Clic system® is free from air irruption. The contents can be dispensed down to the last drop without deterioration of the contents. Since the pouch with this Clean Clic® Connector can be handled as a 'cartridge' in a dispensing device, time to refill is just a second. Replace the 'cartridge' and it's done. Cleanness is also maintained during this process.
For products such as foods and cosmetics where contact with air is to be avoided to prevent oxidation.
For products where contact with hands and fingers is to be avoided, such as cleaning agents and chemical solutions.
For products with high viscosity where liquid residue is a concern in conventional pump containers.
What the "Clean Clic System®" makes possible.
Preventing deterioration of contents and maintaining

freshness

Compact pouches

reduce packaging

material usage

Easy refilling

by using the pouches as refills as is

Streamlining

of filling operations for liquid products
More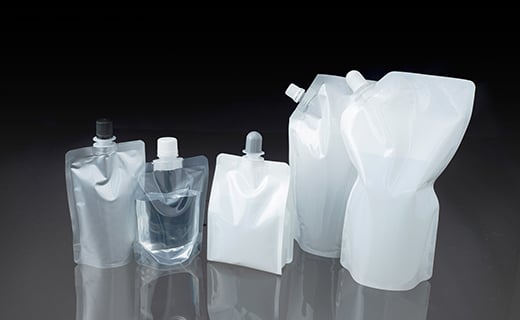 Spouted pouches of PacPlus are resealable and squeezable. These packages are lightweight, space-saving and environmentally friendly in terms of the material weight. Our plain standard line can be used for general purposes such as daily necessities, cosmetics, and food products. Furthermore we can propose suitable specifications of the pouch according to the contents and application; from low to high viscosity, and sensitive liquids which require the oxygen barrier etc. Designing the custom shape is also our strong point. Of course we can propose the optimal filling methods/equipment for our customers.
More